Hi -
I caught you looking for something to do on your computer!
Lunchroom Manners (1959)
This is a funny and retro look at a 1950s instructional film to teach children good lunchroom manners. I am convinced that school films from the 50s and 60s used the same narrator, background orchestra, and color gamut. It's funny to see all these kids who are now basically our parents' ages, though as J-Fav pointed out, "They're so... white!" Got good bandwidth? Worth a look.
Click thumbnail to access movie, from Internet Archive. See links on left in new window.
Synaesthesia
Here is a graphic designer's personal discussion about his experiences with
synaesthesia
. You might also enjoy his collection of "boring Swedish postcards."
M5
In the "what the heck!?" category: please help me understand what this brief movie is about. The poor pronunciation in the voice-over just doesn't jive with the fairly advanced vocabulary. The move is the
Evolution of Evolution
.
Wow! Old Commodore CBM Doing "Rendering"
Well, not really. But this wacky artist thought it'd be fun to twirl a physical realization of a
wireframe teapot behind this vintage computer
. (Yes, it's the
Utah Teapot
. For you non-computer-graphics people, a certain Melitta teapot now rests in a computer museum because it is one of very few standard 3-D test models for 3-D graphics algorithms.)
Corporate Identity Designer
Eric Strohl (Brooklyn) designs corporate identities (logos).
Easy-browse collection
.
Startup Sounds
This is a song made up of
Microsoft startup and error sounds
.
Thift Store Art
Many, many galleries of
thrift store art
.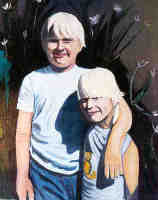 Image source: Thiftstoreart.com
Modern Living
VERY wacky and inventive tiny animations. Try #91,
"Why Not Sneeze..."
The Amiga! A 1985 Episode of Computer Chronicles
No way are you nerds getting any sleep; I just caught myself spending 20 minutes watching this free archived episode of
The Computer Chronicles.
They actually have the "Boing!" demo from
the first Amiga
, coverage of 1985 Comdex, amazement that the computer has DMA channels, and even an appearance of a new young software company, the 3-year-old Electronic Arts. Sigh... Prepare to get sucked in to this.
Linked GIF from Internet Archive
That should keep y'all going for a while.