Raymond Loewy
The Shell logo, Nabisco logo (and Oreo cookie packaging), the Exxon logo, the U.S. Postal Service Seal, and other things were designed by Raymond Loewy.
Check out some case studies here
. (I appreciate Prof. Maeda's SIMPLICITY blog for pointing me to this.)
Henry Dreyfuss
While we're on the subject of graphic and industrial designers, I think I owed one of you a response to "who designed the classic round Honeywell thermostat?". Answer:
Henry Dreyfuss
. He also designed the famous slimline telephone and, evidently, for (John) Deere & Co. "a 'corrugated' radiator shield that farmers could clean with their gloved hands--a change that resulted from watching how people actually worked."
It appears that a combination of a quite-caffeinated grande peppermint mocha (free! on Dec 1) and watching Tim Burton's "Willie Wonka..." put me in a state desperate to show you that industrial designers are
really important
. I don't know how many people realize that, since, (almost) by definition, good design is not noticed. (There's some ancient quotation about how "the well-designed shoe is not noticed.")
Ahem.
So:
Philippe Starck
I am in no position to summarize this man's work.
Check it out
. You may be familiar with his juicer: (is it heretical to complain, though, that I can't help wonder how awful those three sharp tines would sound if dragged along a tile counter?)
Otl Aicher
Creater
of the Lufthansa logo, the Rotis typeface...
Marcel Breuer
Bauhaus designer of furniture including the "Wassily" tubular armchair: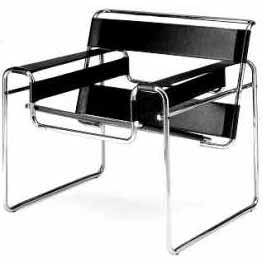 Massimo Morozzi
I think
Morozzi
's "
Paesaggi Italiana
" storage system (1996) looks cool:
Eliot Noyes
Perhaps La Lecturess will already know that Noyes designed the IBM Selectric typewriter (1961). Of course, I wouldn't know that if it weren't for this book on my lap that J-Fav got me.
Paul Rand
This master
created the logos of IBM, the original "gift box" UPS logo which they recently DESTROYED, and others (like, yes, the NeXT computer logo for Steve Jobs).
I was hoping to end up with the creater of the classic Toshiba (was it Toshiba?) rice cooker, a design that is reportedly so ingrained in peoples' minds that rice cookers will forever have that rounded-top cylindrical shape...
G-Fav